Next Concert
March 26, 2017 – 3:00 PM. "Around the World in 80 Minutes." Churchill Memorial United Methodist Church. 8019 Boston State Road, Boston, NY 14025. Free will offering. Brass Band  works from the U.S., Canada, Australia, Japan, Russia, Italy, Spain, England, Ireland, and Brazil. Featured soloists Diana Bley on euphonium,  Larry Deni on cornet, Peter Karda on trombone, and Phil Rehard on tuba.
Buffalo Silver Band awarded a Give for Greatness award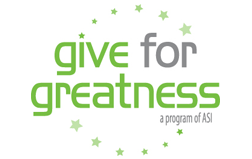 The Buffalo Silver Band has been recognized with a 2017 Give for Greatness award from the Arts Services Initiative of Western New York (ASI).  The awardees were chosen from 78 applicants across five counties, and represent a cross section of innovative small and emerging cultural groups across multiple disciplines.  Lawyers for the Arts, the Rupp Family Foundation, the Battle of the Corporate Bands, the Foundation for Jewish Philanthropies' Fern, and Joel Levin Philanthropic Fund fund the award.
Duty, Honor, and Valor:  A Flag Day Concert Honoring the Centennial of the United States' Entry into World War.
2017 is the centennial of the United States' entry into World War I. World War I marked an end to U.S. isolationism and eventually helped to usher in a decade of cultural, social, and financial prosperity.  Overcoming three years of stalemate that had previously existed, American entry tipped the balance of power in favor of the Allies.  On June 17, 7:30 PM at Slee Hall,  the Buffalo Silver Band will present a narrated program (TV personality Mike Randall to narrate). The program, honoring all veterans, will educate the audience about World War I as well as the music of the period. Proceeds from the concert will be used to benefit the Veterans One Stop Center of Western New York (vocwny.org), Western New York's premier veterans service and advocacy collaborative
We are recruiting!
We can use tuba players. If you would like to join us, contact Pat Chiodo at president@buffalosilverband.org .
Notable concerts performed by the Buffalo Silver Band in the past year
Canisius College Montante Center, March 4, 2017
Fox Run, December 13, 2016
Anglican Church of St. Nicholas, December 10, 2016.
New York State School Music Association annual meeting, December 1, 2016.
St. Simon's Episcopal Church, November 19, 2016.
Niagara Wheatfield High School, November 8, 2016.
University at Buffalo Slee Hall, October 22, 2016
Brighton Hockey Arena, August 9, 2016
Williamsville Island Park, August 2, 2016
Canterbury Woods, July 7, 2016
Chautauqua Institution. July 3, 2016
Town of Concord, Fiddler's Green Park. June 23, 2016
Larkinville- Food Truck Tuesday. June 14, 2016
Canisius College Montante Cultural Center. May 7, 2016
Westminster Presbyterian Church, April 3, 2016.
Unitarian Universalist Church, February 14, 2016