Buffalo Silver Band Offers a Scholarship!
The Buffalo Silver Band is pleased to announce the First-Annual BSB Scholarship Competition! This competition is open to current High School Juniors and Seniors who play Trumpet, Cornet, French Horn, Trombone, Bass Trombone, Baritone, Euphonium, and Tuba. The winner will receive a $750 cash prize and the opportunity to perform with us as a featured soloist on our March 10, 2018 concert at the University of Buffalo's Slee Hall (see below).  Students will perform their competition piece for a panel of judges from the Buffalo Silver Band. Students must select a Level 6 solo that is listed here:
Next Concerts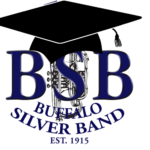 Celtic Connections and Youth Scholarship Concert
7:30 pm. Lippes Concert Hall in Slee Hall
Celebrate an early St. Patrick's Day with the BSB.  The program features everything Irish – jigs, reels, ballads, and hymns.  The program includes a solo performance by the BSB scholastic brass scholarship winner.  Tickets at the door: $12 ;  $5 for students with identification. Advance purchase tickets available for $10 online at  ticketpeak.com/buffalosilverband
The full schedule of concerts may be found here.
Buffalo Silver Band is Selected to Play at Association of Concert Bands National Convention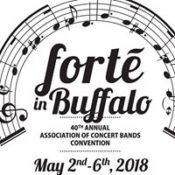 The Buffalo Silver Band will be performing at The Association of Concert Band's 40th anniversary convention after a highly competitive selection process. There were a large number of applicants from seven states, but a blind evaluation process, described on the ACB 2018 Facebook page, resulted in the selection of the BSB. The performance will be on Thursday, May 3, 2018 at 7:30 PM. The convention is being hosted by the Buffalo Niagara Concert Band.
Buffalo Silver Band awarded a 2018 Community Arts Award
The Buffalo Silver Band was selected to receive funding for support of  a "A World War I Musical Tribute" to be performed at Slee Hall on November 10, 2018. The concert will honor the 100th anniversary of the end of World War I. The grant program is funded by the New York State Council on the Arts with the support of Governor Andrew Cuomo and the New York State Legislature and administered by the Arts Services Initiative of Western New York.
The grant is the result of a competitive process. This year there were 56 applicants 16 winning proposals. The Arts Services Services Initiative of Western New York said, " We anticipate that your project will enrich the artistic and cultural atmosphere for the citizens of this region. At ASI we believe in the continued support and investment in the arts and cultural activity of this area. By investing in your project we continue to strengthen and diversify the artistic offerings to both citizens and tourists alike."
We are recruiting!
We can use tuba players. If you would like to join us, contact Pat Chiodo at president@buffalosilverband.org .
Notable concerts performed by the Buffalo Silver Band in the past year
St. Simon's Episcopal Church, December 16, 2017.
Fox Run, December 12, 2017.
Anglican Church of St. Nicholas, December 2, 2017.
Kenmore East High School, November 21, 2017.
Slee Hall, University at Buffalo, June 17, 2017 and October 28, 2017.
Town of Concord (Springville) Summer Series. Fiddlers Green Park, Springville.  June 29, 2017.  Town of Tonawanda, Lincoln Park Arena.  July 18, 2017.
Central Park United Methodist Church, July 25, 2017.
Fox Run. August 3, 2017.
Syracuse University, Syracuse, NY. May 6, 2017. Joint concert with the Syracuse University Brass.
Churchill Memorial Methodist Church, March 26, 2017
Canisius College Montante Center, March 4, 2017